Colors

 are like people. They work together or not..
This morning I was working on my daily project to paint the mountain view from my breaksfast table. Later on, my husband saw this piece with some pink and asked:
"Do you see the mountain pink or do you make things up?"
Good question! How do I come up with my choice of colors?
The best metaphor I thought of was the encounter between two people, between two worlds.
Here are three reasons colors are so complex and intriguing.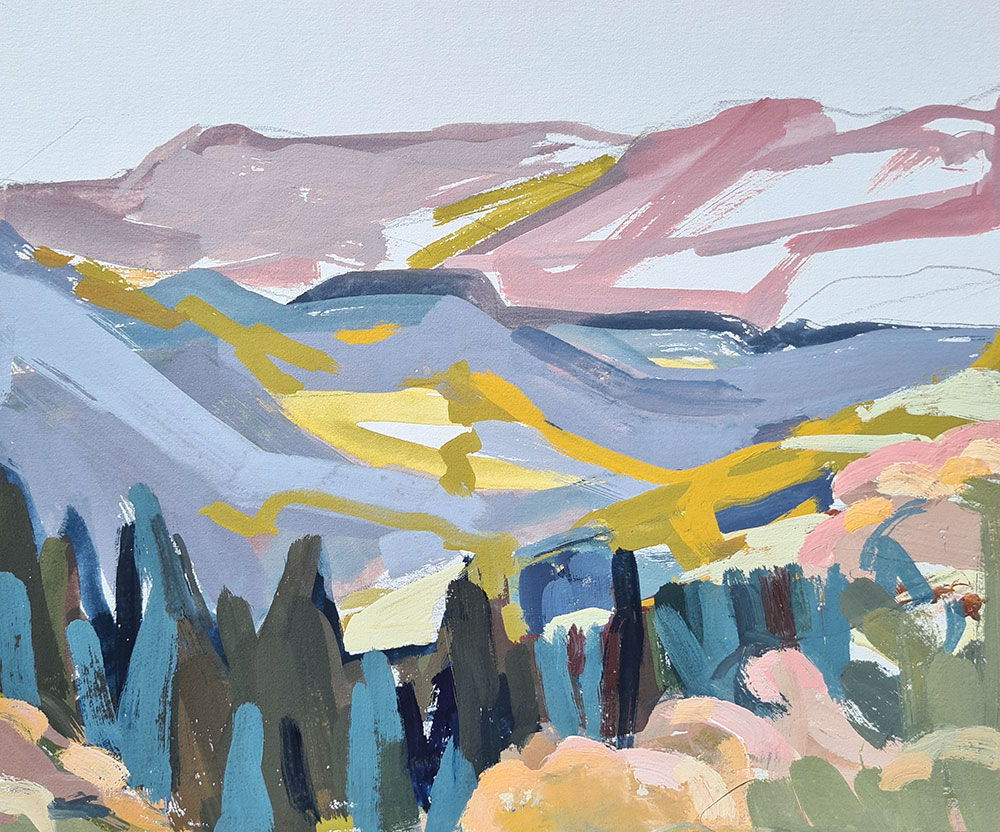 1. 
Colors

 are gregarious like humans
"There is no blue without yellow and without orange." wrote Van Gogh.
Colors like humans have to get together. They attract each other. They repel each other. They are in a love-hate relationship, like us with ourselves and with others.
2. What you think of a person is limited
When meeting someone we quickly make assumptions about this person character and we interact on a limited spectrum.
My palette composed of white, blue, red and yellow is very limited compared to the brightness of the light and the intensity of the sun. My yellow tube next to the sunlight is terribly dark. So I just have to make things up.
Overtime I feel the depth of the lights and darks, the intensity of the hues; same when I spend time and get to know someone.
3. We don't need
colors

 to see things but without them  life is poor
Poetic moments versus practical aspects.
The sight responds primarly to movement and contrasts (black and white). In fact, we don't need to see colors to function. But colors are like flowers, they remind us of the poetic aspect of life.
Playing with colors consist of walking on this thin line between our infinite being and our incarnated body.
Next time you encounter an important relationship, think of colors.
I hope you will encounter many complementary colors and people as the autumn is really starting to arrive in Ardèche.
This piece is sold but if you want to see the full serie, subscribe to the newsletter