At a time when we can loosen up but can't travel that far yet, I invite you to two places: An emotional place and a physical one.
The emotional place, or "the new normal"
At the beginning of all of this (i.e. the pandemic), I felt relieved. Relieved because I was ready to immerse myself in the creation process. Was it also a way to numb the fear associated with the virus? Of course I felt guilty of these "selfish" feelings to find out through my conversations with you that we were sharing a similar state of mind! :: How many of you have wished to spend more time with themselves? With loved-ones? :: How many of you have hoped to reduce travels and things to do? :: How many of you have wished to enjoy nature and a simpler daily routine? This new normal allowed me to spend more time looking by the window. I have immersed myself into the life of the tree I can see every day from my window. He was naked at the time. He has now so many yellow green leaves… I have explored what I was really missing, what was really important.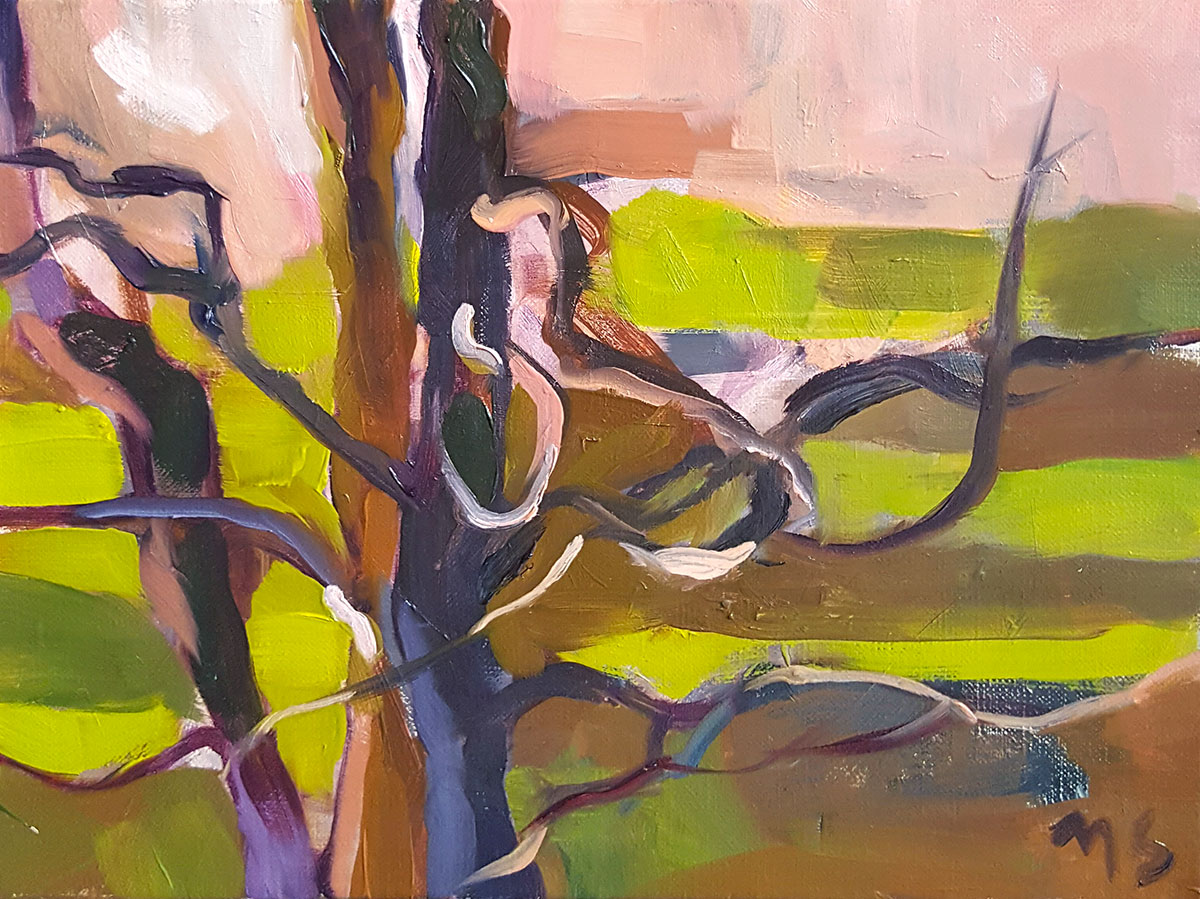 Spring from the window and the new normal, oil on canvas, 30 x 23 cm | 12 x 9′
This painting came to me.
It feels slightly weird. I am not sure where it comes from. But it is a true reflection of the mood of the day. Weird. A place of discomfort and growth. A new normal?
The second place is located in Northern Lapland.
It is a kingdom, a secret space, a place of deep nature.
I feel so grateful I could enjoy and visit it twice last year.
It is located 6 km from Kárášjohka (Northern Sami) or about Karasjok (Norwegian) or Kaarasjoki (Kven). It is a municipality in Finnmark county, Norway (looks like a first scene from a James Bond movie).
No words or paintings this time. Just a video.
Wherever you travel, I love sharing this journey with you. Thank you for being here.
Photo credit: ©Juliette Frank de Cusey
I can't wait to hear from you and if you aren't already on my list to receive more stories, subscribe here!